Beeswax body care – all natural skin salves, creams, and lip balms
These skin nourishing beeswax creams are handmade with only natural ingredients, including our own harvested beeswax, and natural body butters and oils. No harmful chemicals or preservatives! These creams are great for dry skin, and good for chapped lips too.
We usually have in stock unscented (has the natural scent of beeswax), lavender, and rosemary scent.
We use all natural essential oils for our scented creams.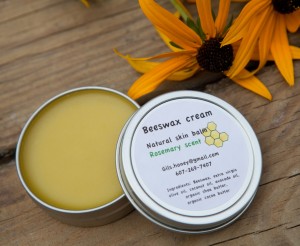 Check out our online shop for orders